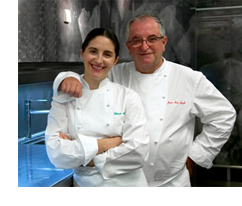 Just when Catalonian chef Ferran Adrià announced that his world famous restaurant El Bulli will be closed permanently, another Spanish chef takes center stage.
During the 8th international gastronomy summit, MadridFusión, world renowned Michelin star chef Juan Mari Arzak of the famous Arzak restaurant in Spain and Philips Design presented a series of concepts intended not only to delight palates, but also evoke emotion and stimulate the senses.
The sensual enjoyment of flavors, the appreciation of harmonies and the recognition of nuances all combine to create the unique pleasure of the dining table. In its latest Design Probe – Multi-sensorial Gastronomy – Philips Design has explored how the integration of light, conductive printing, selective fragrance diffusion, micro-vibration and a host of other integrations of sensory stimuli could affect the eating experience in subtle ways.
Lunar Eclipse (bowl), Fama (long plate) and Tapa de Luz (serving plate) are made from bone china and familiar objects from our everyday lives. However when liquid is poured into the bowl or food is placed on the plates, they begin to shine. A glowing light subtly appears from the bottom of the bowl and plates creating a new sensory dining experience as the senses are stimulated and altered. The series uses bone china and involves the integration of lighting, conductive printing, selective fragrance discharge, micro-vibration, electro stimulus and a host of other sensory stimuli that affect the food and the diner in subtle ways.
Also read this short interview with Juan Mari Arzak on the essential role of design, creativity and innovation in gastronomic cuisine.