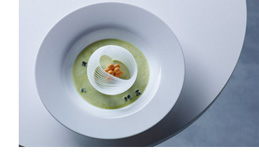 The combination of design and food can be very fruitful for people and companies. They get a lot of inspiration from it and take it as metaphor, domain or just for the fun of it.
Armin Hofmann from the art blog 'today and tomorrow' reports on one example, the Food Design Probes from consumer electronics company Royal Philips.
"Food Design Probes is a research project by Philips. They developed ideas how we will eat and source our food in the future, like in 15 to 20 years. There are 3 products we might have in our homes by then:
The Nutrition Monitor. It basically has 3 parts, a sensor which you have to swallow, a scanner which can measure the nutritional value of food and a display device. So you'll exactly know what your body needs and what kind of effect your food will have on it.
The Food Printer. Remember the 3D sugar printer? Well, this is the next generation. The machine brings molecular gastronomy to your kitchen. 'Feed' is with some ingredients, pick a shape, let it print … and voilà your amazing 3D dish is ready. I can't wait to see all the opensource 3D recipes that will be available!
The Biosphere Home Farm. It's a 21st century aquarium crossed with stylish shelving unit, it contains fish, plants and other mini ecosystems."
Let's see if this consumer electronics company can deliver some great designs from this far-future research and food inspiration.