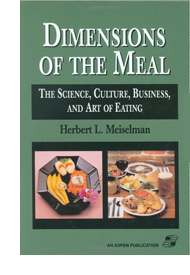 Food is art and science. Besides chefs performing the culinary arts and crafts, many researchers have looked into food from a scientific perspective.
Under the subtitle "The Science, Culture, Business, and Art of Eating", author Herbert L. Meiselman (Senior Research Scientists at the U.S. Army Natick Research Development and Engineering Center) has collected an interesting set of scientific essays on The Meal. The chapters of the book are grouped into parts such as 'Definitions of the Meal', 'The Meal and Cuisine', 'The Meal and Culture', and 'Designing and Producing Meals'.
Although the book originally costs a fair amount, it is currently available at a reasonable 20 dollars at Amazon.
From the introduction: "The objective of this book is to appreciate the complexity of meals; to see the psychological, physiological, cultural, nutricial, biological, sensory, food service/catering, and other business aspects of meals; and to see the interdisciplinary nature of understanding meals; meals are complex, but understanding meals and addressing meals in the practical world requires a more complex view of the meal."