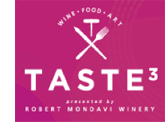 Great stories are sources of inspiration. That's one of the reasons we love the 18-minute presentations from the annual TED conference so much. Amazing people telling the most compelling stories.
In 2006, 2007 and 2008, a special set of these great stories was told. Robert Mondavi Winery organized the TASTE3 conference and invited storytellers from the culinary world. It's the passion behind these stories which makes them so inspiring.
A few examples:
Chef and scholar Dan Barber relentlessly pursues the stories and reasons behind the foods we grow and eat.
Master breadmaker Peter Reinhart channels the science of baking into deep, spiritual lessons and dispels stale myths about the nature (and flavor) of good, wholesome bread.
Journalist and author Benjamin Wallace tells the true story of the world's most expensive bottle of wine.
Owner and founder of Vosges Haut-Chocolat Katrina Markoff reveals the four steps that leads her to inspired, delicious and creative new chocolate collections.
Moto Restaurant's Pastry Chef Ben Roche demonstrates the unique dining experience at Moto with his version of Carrot Cake, Nachos and Wine and Food Pairing.
Chef Jeffery Henderson tells his story from the streets to the stoves and how cooking changed his life.
According to the Taste3 blog, the next version of the conference will be in 2010. Deo volente.